Curiously built right up against its romanesque church, the Prieuré Saint Agnan guest house, an old Benedictine priory, is a magical place: a verdant little island of peace and tranquility in the heart of the small bustling town of Cosne sur Loire. Since the priory was resold as a national treasure in 1790, it has always been a family home and today it retains this feel, offering five comfortable guest rooms. Spread around a large lounge- library, the four first-floor rooms are reached by a wide exterior staircase: three have views of the Loire and the fourth, more secret, overlooks an interior courtyard onto the stained glass windows of the Saint Agnan church. On the ground floor, the 'chambre du Clocher' (belltower room) enjoys its own access to the garden and its bathroom was created in one of the old wine cellars.

The large garden slopes down to the Loire and harbours a heated outdoor swimming pool, open from the end of April until the end of September.
Véronique and Gilles have tastefully furnished this guest house in Burgundy so that each guest can enjoy the place's warmth and friendly atmosphere. The rooms are designed to allow moments of well-being, including the Bell Tower room with its Balneo bath.
A stay in the Prieuré Saint Agnan guest house in the Nièvre is an invitation to relax and unwind. The beautifully staged garden reveals many facets over the seasons. It offers a great view on its own, while remaining in harmony with the Loire below.
A bit of history...
There is very little documentation on this old priory of the Cluny order. Just a few lintels and facing stones in the outside walls indicate old entrances to buildings long disappeared. The romanesque church of Saint Agnan was itself partly destroyed in the 18th century and the bell-tower had to be rebuilt.


At the end of the 19th century, Admiral Philippe de Boissoudy bought the building and the attached workers' cottages. With careful restoration, he gave the Prieuré Saint Agnan its present aspect. It's because of him that the house is nicknamed the - the Admiral's house-. Although almost nothing remains now of its former religious life, popular tradition continues to call this special place the Prieuré Saint Agnan.
If you want to know more about the history of the region, don't hesitate to consult this very documented site : terres-et-seigneurs-en-donziais.fr.
The bells of the Saint Agnan church stop chiming at 22h. They recommence at 7h during the week and at 8h on Sundays.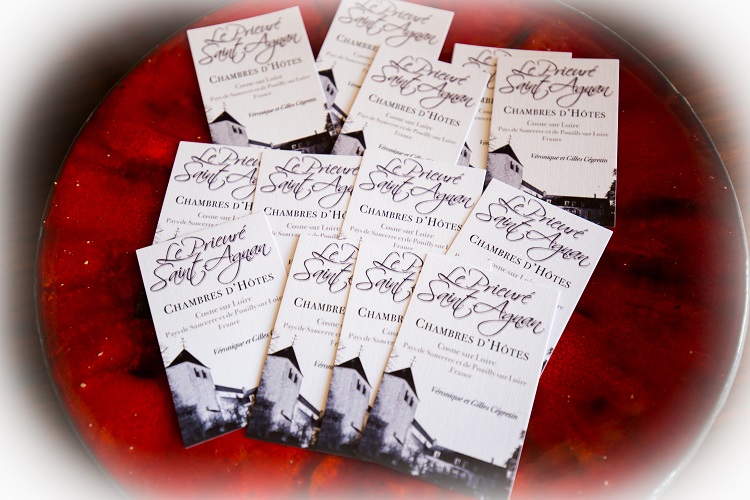 CONTACT US
+33 (0)6 19 91 96 82
ou by e-mail ( click here)